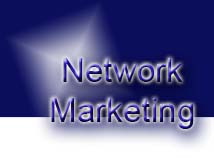 What is Network Marketing?
In the course of my Network Marketing business, so many people have asked me the question, thus I think the best way to start this series is to tell you what Network Marketing is?
It is a business about helping people, often called a people's franchise. It is the unseen business, it does not have giant signs or large offices but yet millions of people are working in this industry each and everyday. A network marketing business in reality is a business school, you are or should be in a training program from day one. This truly is a Learn while you earn Program. The training if it is quality training is life changing. Through out our life, the school systems have taught each of us to be a good employee. Our college system has taught us to be a good manager. All the while our labor is designed to make some one else wealthy.
This is a business model whose time has come. It is literally the finest example of the free enterprise system. Today there are millions of people around the world building this unseen industry called network marketing. The DSA reports that there are over 13 million people in the U.S and 55 million people worldwide involved in direct selling/Network Marketing. You do not see them but they are everywhere, some probably right in your own neighborhood. It is a business in which common people can invest a small sum of money and through sheer tenacity in determination rise to staggering levels of financial and time freedom. But it requires education based on market tested results not the typical hype found out here on the internet today!!!
 
Each and everyday millions of people report to work, where your employer leverages your time to build his or her business and financial future. In Network Marketing we help and assist others in building their business. We are also leveraging their time, hence the name Network. We get paid for this because we are assisting, coaching and helping them to establish their business. Helping them to reach their goals for their financial future. So Its only right that we also get paid for our time? Just like your employer leverages your time, through network marketing you can leverage the time of others. One of the important things to remember is, you are in a real business, you no longer have a boss holding you accountable. Your success or failure is dependent upon you and your actions.
It costs less to get involved with this form of business, a few hundred dollars. So don't give up your day job just yet. It will require 5 to 20 hours of consistent time and effort each week to build a successful Network Marketing Business. It will require a marketing budget, most people do not even consider this. Once again this is a real business this is your business, not a get rich quick overnight program, although it has been hyped by a great many naive marketers and web sites.
Watch out for No.2 in the series where we will talk about how to choose the right Network Marketing Company. Till then, see ya.
 
Share on Facebook