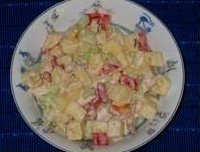 While going through some recipe sites, I came across this recipe and I thought, "what a sumptuous meal this would be." So, I decided to share it with you, maybe you would like to give it a trial yourself. Attached is a list of its ingredients.  (This list is not exhaustive, you can make some additions and subtractions of other ingredientsfor effect).    
Ingredients:
4 Boneless skinless chicken breast halves, 1/4 teaspoon of Lemon-pepper seasoning, 1 can (8 oz) of unsweetened sliced pineapple, 2 tablespoons of Soy sauce, 3 tablespoons of Vegetable oil, 1 tablespoon of Vinegar, 1 tablespoon of Honey, 1/4 teaspoon of Ground ginger, 8 cups of Assorted vegetables (lettuce, red onions, carrots, sweet red pepper and broccoli) Salted peanuts (optional).
Preparation:
Sprinkle chicken with lemon-pepper. Grill over medium-hot heat or broil 4-6 inches from the heat for 15-18 minutes or until juices run clear, turning once. Set aside and keep warm. Drain pineapple, reserving 2 tablespoons juice (discard remaining juice or save for another use); set pineapple aside. In a jar with a tight-fitting lid, combine oil, soy sauce, vinegar, honey, ginger and reserved pineapple juice; shake well. Brush some of the dressing over pineapple; grill or broil for 2 minutes. Cut chicken into strips. Arrange vegetables on serving plates; top with pineapple and chicken. Sprinkle with peanuts, if desired. Serve with remaining dressing.
Nutrient Information:
479 Calories; 15 g Total Fat; 2 g Saturated Fat; 8 g Polyunsaturated Fat; 42 g Carbohydrates; 44 g Protein; 38006 IU Vitamin A; 25 mg Vitamin C; 111 mg Calcium; 1104 mg Sodium; 5 mg Iron; 11 g Fiber.
via:mealsmatter
Share on Facebook